Deschid o noua categorie cea de filmele lu' moi, ca sa va educ la ce si cum sa va uitati, clar?
Hmmm, de ce sa nu recunosc, filmul mi-a placut destul de mult, desi scenaristii au luat-o rau pe aratura terfelind "adevarul" legendei (Robin era nobil si apoi devine paria, Marion era fecioara si nu vaduva, plus ceva rubedenie de-a lui Richard - care a trait bine merci tot timpu' filmului si chiar se intoarce sa-i naseasca pe cei doi), poate tocmai datorita acestei diversitati fata de povestea originala. Desi povestea originala, si aici ma refer la Robin Hood-ul lui Walter Scott sau cel al lui Dumas tatal, are un potential pe care tare mi l-as dori ecranizat.
Varianta cu virgula Costner (cum, nu stii actorul virgula Costner? fratele lu' Staring, mai!) e mult mai romantica.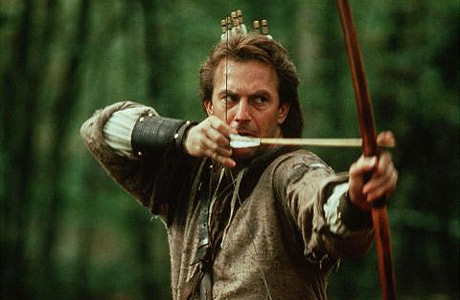 Deh, facut in anii '90, cind lumea gusta mult mai mult asta, plus pe atunci era in voga si Brian Adams sa puna de o coloana sonora, deci nu prea poti sa compari cele doua filme - prea multi ani intre ele. E ca si cum ai incerca sa compari un film sf din anii '50 cu unul facut acum. (iti spun eu una, aia din '50 aveau imaginatie cu duiumu', dar nu cu ce s-o transpuna pe film, iar astia de azi au tehnica berechet, dar nu prea se mai gasesc scenarii ca lumea)
Russel arata ca in Gladiatorul, exact moaca si freza de santierist intelepto viguros, care le stie pe toate, practic a jucat acelasi rol, doar ca a avut alte replici si de data asta n-a murit (yeeei!). Rautacios mai sint, stiu, dar vorbeste criticul din mine, care ar vrea mai mult de la actor. In caz ca nu te-ai prins, mi-au placut ambele filme.

Cate e una dintre actritele serioase de film sau cel putin asa o vad eu, mai ales dupa cele doua Elisabete, si m-a surprins placut rolul ce il are aici, mai ales evolutia caracterului ei. (folosesc cuvintul "caracter" cu sensul de "personaj") De la o tipa cam teapana si "up tight" (expresia englezeasca pentru "umbla cu un morcov infipt undeva") la una care stie sa iubeasca si, la nevoie, sa lupte pentru tara ei.
N-am sa comentez despre toate personajele din film. Ma opresc la Kevin Durand, care mi se pare mai mult decit potrivit in rolul lui "Ion cel mic", desi personajul mai putea fi dezvoltat nitel, potential fiind slava domnului berechet, vorba aia - a fost prieten si tovaras de nadejdie pentru Robin, un egal daca citesti sursele date de mine mai sus. Consider neglijat rolul asta. Sa apara un "Little John Origins", clar?
Si la Mark Strong, care pare tot mai mult sa stea "in the dark side". Probabil ii plac mult prajiturile. (pentru neinitiati - Come to the dark side, we have cookies.) Dupa "Sherlock Holmes", iata un alt rol negativ jucat cu maiestrie, as putea spune si uite ca o fac. Dar nu cred ca va ramine un "bad boy". Compenseaza cu rolul din "Body of lies", unde apare, iata, tot alaturi de Crowe plus Di Caprio si mai ales cu cel din "RockNRolla" unde imi place in mod deosebit.
Peisajele sint fermecatoare, efectele te tin bine in scaun (duuh 2010), un film placut de vazut, dar criticul din mine vrea mai mult, repet - potential ar fi cu cisterna.
posted in filmele lu' maK | 1 Comment